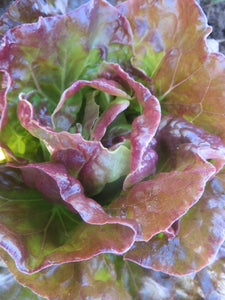 Growing vegetables in part shade
Some people want to grow a garden, but only have shade in their yards.  Shade is a blessing in almost every other way-  it often means trees are present, it keeps the soil from drying out, and keeps the house cool in the heat of the summer.  But for growing a vegetable garden, shade is tricky.  Most vegetables require 7-10 hours of full sun to thrive, flower, and set fruit.  However, if you only have shade and still want to grow at least some of your own food, you can! 
As a general rule, many crops that we only eat the leaves of, or consume during the vegetative state of its life cycle prior to flowering and fruit set, do great in part shade!  4-6 hours of light a day is all these plants require to be productive and edible.  These include lettuce, cilantro, sorrel, spinach, arugula, dill, and other leafy greens.  Follow these tips to get your shade veggie garden going right!
-Plan to grow in summer
If you're dealing with mostly shade, growing in the spring and fall likely won't be very successful because the sun is weaker then.  Even a shade tolerant garden needs at least 4 hours of sun a day.  Soil in the shade is likely to be too cool to germinate well in the spring and fall.  All the above crops will do great if planted during the summer.
-Reduce water accordingly
 You might need to reduce your watering significantly when growing in the shade.  When grown in the shade with too much water, leafy greens are much more vulnerable to diseases and fungal growth than when grown in the sun.  This is good news!  A garden in the part shade can be a water-wise garden!
-Consider growing in the front yard
If you have trees in the back, but full sun in the front as many people do, consider growing your vegetable garden in the front yard!  A vegetable garden can be a very beautiful and inspiring sight for your neighbors and passersby.  If your yard is not fenced and you're worried about dogs, consider building raised beds which bring the garden up to your level and keep it out of reach of vermin.  
---