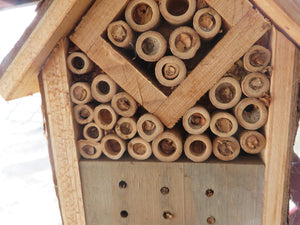 Make Your Own Mason Bee Nest
Making Mason Bee Boxes


Solitary native bees like mason bees and leafcutter bees are crucial, but often overlooked, pollinators. As opposed to the European Honeybee (also an important pollinator) native solitary bees do not live in colonies.  Instead, individual females find-tunnel like structures to lay their eggs in.  These might be hollowed woody stems, woodpecker holes in trees, or human-made nesting structures like the photo above.  Inside each tunnel the bee creates partitioned chambers out of leaves and petals (leafcutter bees) or out of mud (mason bees.)  In each chamber she lays one egg and deposits a pollen patty she has collected for the larva to eat once it has hatched.  
Solitary bees are awesome to have around your garden because they are such amazing pollinators.  Many species fly earlier and later in the day than honeybees.  They also fly in poorer weather and earlier and later in the season than honeybees, ensuring pollination happens in a variety of climatic conditions.  Solitary bees also have more of a darting feeding pattern than honeybees, which ensures cross pollination between plants.  This is because, as opposed to bees living in colonies, there is just one of them-  they're irreplaceable! This makes them more quick and cautious fliers who don't stay in one area too long.  It can be difficult to photograph a solitary bee!
Providing nesting blocks with tunnels for solitary bee nests is an easy and effective way to attract more of them to your garden.  It's also a great way to support these species!


Learn more about tunnel nesting bees and
making your own bee box here!
---